Free Website Evaluation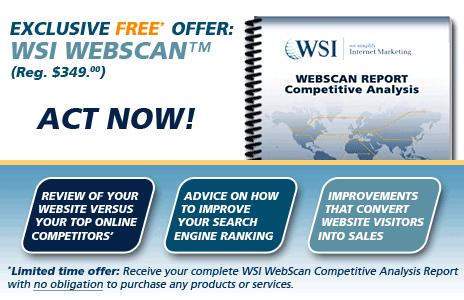 Is Your Website Working For Your Business?
Have You Updated Your Website Recently?
Have You Had a Competitive Analysis of Your Website?
If you answered "no" to any of these questions, it's time you contacted us for your FREE WSI Webscan ($349 value, limited time only).
Our role as your local Internet Marketing Consultant is to help your business realize the full profit potential of the Internet. That potential goes far beyond just selling products and services online. At WSI, we have a wide range of specialized tools and can offer you a variety of affordable Internet Marketing Solutions tailored specifically for your business.
Reduce Your Operating Costs
Increase Your Revenues
Automate Your Processes
The Internet can do all of the above for your business, but first…
You can't do Business if your customers can't find you!
The ability for your business to be found easily online relies on your ranking within the top Internet search engines, i.e. Google, Yahoo and MSN. Your WSI WebScan Report can help you to fully understand your current ranking within these search engines and what you can do to improve your position.
Ranking among the top of search engine results can be more effective than any advertising you've ever done for your business combined. The WSI WebScan allows us to create an accurate picture of where your website is positioned against other businesses within your industry on the Web including:
Your business' current ranking in the top search engines as compared to your competitors'
A high level review of key elements on your site that may be hindering your business' ability to attract and convert visitors into customers
Recommendations on what you can do to improve your competitiveness on the Internet
Improve your search engine ranking and convert MORE visitors into customers!
Your WSI Internet Marketing Consultant will prepare your WebScan Report. Please call us at (416) 695 8867 or click here, select the Diagnosis option of our Contact form and we will contact you.