Pay per Click (PPC)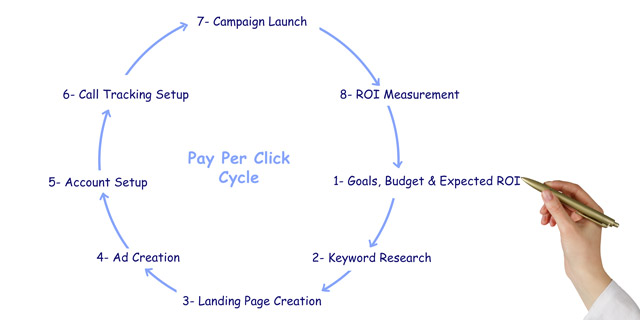 Target Your Potential New Leads in Mississauga with Effective Paid Advertising
When you have your search engine optimization strategy in order, you may be wondering if there is a way to step up your exposure and attract even more traffic. The good news is, there is!
Pay Per Click Advertising Can Boost Your Lead Generation Dramatically
You have probably heard of paid advertising or pay per click advertising. This is a highly focused and effective means of advertising your products or services while also controlling your marketing budget. The best thing is that this method of digital marketing works for any type of business no matter where you are located or what your size or operation is.
Check Out Pay Per Click Ads For Yourself
Run a Google search for the products or services you are offering. In your search results you'll probably see a bunch of ads on the right hand side of the page and also a shaded section of two or three ads at the top of the search results. These are paid ads and they appear in prominent positions to attract more clicks.
Paid Advertising in Etobicoke That You Control
When it comes to controlling your budget and your advertising campaigns, paid advertising is a digital marketing method that really comes into its own. You can control the keywords you are targeting and you don't pay a penny for your advertising until a visitor clicks on your ad.
What you pay per click will depend on the keywords you are targeting. WSI Lead Generator can help you to build a lucrative and highly effective ad campaign.
Pay per click advertising offers the following benefits to your Internet marketing efforts:
Page 1 of Google as soon as you start
Attract only people looking for what you offer
Pay only for visitors, not for how many times your ad is shown
Target prospects only in the geographic area you service. Most of our customers offer services only in the GTA, others only in the Mississauga area, others only just few kilometers around their shop.
Extensive keyword research
Control your budget
Reports that are easy to follow
Regular meetings to go over results - We regularly schedule visits to our customers in Mississauga and all over the Greater Toronto Area.
Leave Your Pay Per Click Management in Mississauga to the WSI Lead Generator Team
We will handle your paid advertising campaign skilfully to deliver the best return on investment. From identifying the keywords that are going to work for you to monitoring your ads and the success they bring, we can do it all. One other advantage of pay per click advertising is that you can pull back an ad that isn't working for you or tweak an ad to make it more profitable.
WSI Lead Generator offers you the following pay per click services:
Keyword research
Bid management on Google Ads (formerly Adwords)
Split testing ad copy
Google analytics reporting
ROI tracking for every click and every call
User-friendly dashboard that tracks everything including call recording
Everything necessary to ensure a high website ROI
Over the years we have helped many companies in the Greater Toronto Area to reap the rewards of pay per click advertising. This is a highly effective method of increasing website conversion and we can show you just how well it works. Thanks to our system we have been able to help companies in the following fields:
Flooring
Garage Doors
Electrical Contractors
Office Furniture
Lawyers
Fitness Trainers
And more…
WSI Lead Generator has helped a host of local organizations, from flooring companies to general contractors and landscapers through to lawyers. Call WSI Lead Generator at 416 695 8867 or use our contact form.